Achieving Student Success Through Multi-College and Industry Training Partnerships — Leveraged Funding Supplied by Employment Training Panel and California Energy Commission
ATRE has been successful at creating a statewide partnership with industry by leveraging contract education and CTE academic programs. This has allowed California's Community Colleges to develop curriculum and support industry with the immediate needs of incumbent worker training, while providing a pipeline for highly trained students in the future.
---
Ensuring that California has a Highly Skilled, Clean Energy Workforce.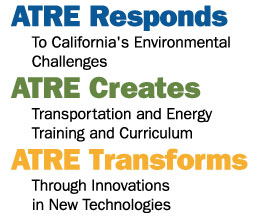 ATRE (Advanced Transportation and Renewable Energy) represents an array of clean energy technologies that form a critical part of California's strategy for reducing its climate change impact and its dependency on foreign energy, as well as growing a robust green economy by helping California's businesses remain competitive in a global market.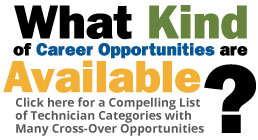 California has always been a world leader in clean energy technologies, but to advance our competitiveness a superior workforce – skilled for the rapidly changing clean energy technologies – must exist. Ensuring that California has a highly skilled, clean energy workforce is the goal of the Advanced Transportation and Renewable Energy Sector and the focus of its state-level Sector Navigator and regionally focused Deputy Sector Navigators.
ATRE PROGRAMS

Electric, Hybrid, and Hydrogen Fuel Cell Programs
Gaseous Fuel Programs for Heavy Duty Vehicles
Gaseous Fuel Programs for Light Duty Vehicles
Intelligent Transportation Systems Programs
Railroad Operation Programs
Aeronautics and Flight Technology Programs
Motorcycle Maintenance Programs
Automotive Clean Air Car, Emissions Programs
Photo Voltaic, Concentrated Solar, Geothermal, and Wind Technology Renewable Energy Programs
Many ATRE Industry Reports are Available!
Click here or on the image below.
Connect Your College with Industry – and Vice Versa
Peter Davis, Sector Navigator for ATRE, can help you align your college with the needs of industry or connect industry with highly specialized training, technical consulting and business development.
Mr. Davis has provided creative coordination of services and training, forward thinking and consistent leadership to the ATRE Sector. He has brought together partners from public and private institutions, industry and business stakeholders, higher-education administrators and faculty to collaborate with very clear goals in mind.
This is accomplished by using statewide and local advisory input to align resources with the centers, hubs and partnering campuses to develop what is needed by the workforce to learn new skills and stay employed.
Want More Information About Our Services?
To tap into the Advanced Transportation and Renewable Energy's industry-specific workforce services, download one of our brochures (Campuses or Industry) or contact the state-wide Sector Navigator, a Deputy Sector Navigator or Regional Chair in your area.
---
An initiative of the California Community College's Economic and Workforce Development (CCCEWD) program, ATRE is dedicated to serving California's Advanced Transportation and Renewable Energy companies with innovative business solutions.
We are an integral part of the California Community Colleges and its Doing What Matters for Business & Industry framework, investing funding and resources in industry sectors that are key to California's economic growth. Our industry-specific workforce services are coordinated through a system of sector specialists that align community college and other workforce development resources with the needs of industry sectors and occupational clusters through a regional focus. Learn more by visiting www.cccewd.net.